Built for
remote workplace!
your projects!
your employees!
time attendance!
price quotes!
work sheets!
company's growth!
your accountant &
"TEAMWORK"

Curio Office is designed for maximum result!
Curio Office has for example, user system, quotes system, sales and accounting system, accounting system, transparent and versatile project management systems, communication systems, timekeeping etc. You can add an website, online store, payment gateways, etc. and more. into the system as well as tailor-made solutions to adapt the system to different business operations. Curio Office, offers unlimited users and low monthly fees, smart apps and more that the you imagination desires.

Learn about the benefits of Curio Office and see how the system can be customized to your business.

Price quotes
You can save an price quote inside Curio Office and when the price quote is confirmed you can send the quote to the worksheet or to an confirmed or unconfirmed invoice.

Task management
Control your tasks
Great overview for manager
Staff can only see their tasks
Clients can save tasks

Sharing task between staff
Review each staff tasks


Accounting system
Time attendance synced to pricelists
Wall to write comments and tasks
Connect files to tasks
Database for projects- related documents

Sales
Create an Invoice
Numbers for items
Great design for invoice
Send an pdf. to clients
Claims avaliable
Sale of the week or the day
Great overview
VAT overview.

Communication system
Chat modiule betwee staff
Social wall
Personal profile
Whats on staff mind
News feed
Announcements module

Your day!
You can review how much you have worked for each client each day of the week or month. You can also click all your staff to review an status of how much your staff have earned for your company, each day, week or month.

User system
3 license for users
Mangers have access to all tasks
Staff can only see theyr personal tasks
Access for clients
Clients can create tasks and chat to staff


Punch Clock
Simple Punch clock
Time attendance
Online staff
In and out reports
Connect to Curio Time

Curio Time
Option to connect to Curio Time
Perfect review of time attendance
(See: www.curiotime.com )
Confirmation page
Let your staff write all tasks into Curio Office with their app. When manger of tasks log into Curio Office they can review both time attendance and written hours into time sheets and confirm hours for both software in one OK click.

APP and KIOSK
All your staff can download an app into their mobile or the kiosk you have and then they can punch in using the app we have built for you. Its also possible to use certain Ip for punching in and out from work.

Custom built software
We know that no two company is the same, so we offer to adjust our software to your business for an fair price. Let us send you an price quote from Curio Office and lets see if we can meet your expectations.
Enlarge your expectations!
You can enlarge Curio Office with all kinds of addons!

Time and attendance system, ticket sale, web shop, conference system, and web management. Add Curio App and Kiosk to your subscription and enlarge your system and let it cover all your business. You can also connect Curio Office to all the most popular accounting system in the world such as Microsift Navision and similar software with api connections. You can also let us develope all kinds of your own software that you want to use for your company.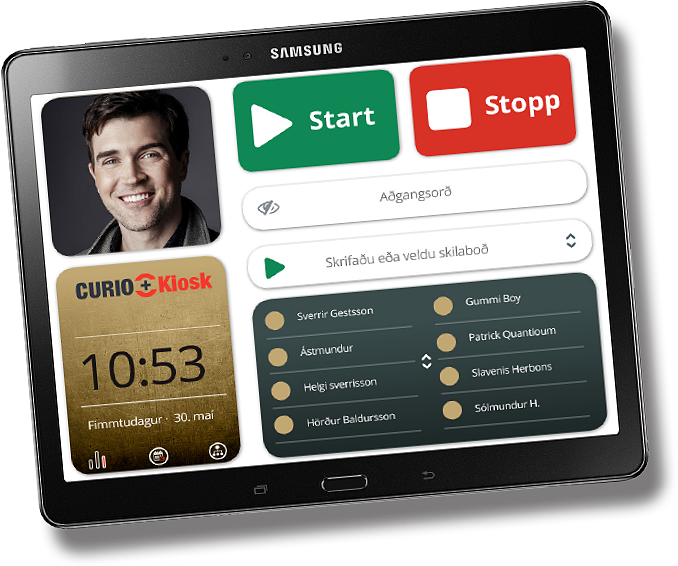 Simple password to punch in or out from work
Staff can punch between tasks without punching out from work
Send messages to salary department or Accountant
The app has an GPS coordinates
Staff can send requests about their holiday and manager confirms
Option to use IP location
Option to select departments
Staff can receive personal timesheets
Connect an camera to Kiosk

Clock in & out
Unlimited users

Ticket system
You can now sell ticket and gift certificates online

Add your website to Curio Office
Control your website inside Curio Office

Curio Kiosk
App for tablets and ipads

Add an web shop
Connect the webshop to your accountant system

Curio App
for mobile phones / IOS og Android
API connection
You can connect the worksheets, time attendance and sales system to all major sales system that offers api connection.
My page:
Its possible to add my page into your webpage and publish all invoices and the clients history from your accounting department.
Please be free to review the time attendance system Curio Time
Curio Time is an time attendance system that is fully compatible with Curio Office, Curio App and Curio Kiosk.
The software is usuable on all major browser on the internet, both for mac and pc computers.
See: www.curiotime.com
Time tracking system with unlimited users
Now you can buy your own Time tracking system for one fixed price. You don´t need to spend money on subscription pr. month again if you use an browser. Curio Time can grow with your company because of its unlimited option of staffs timesheets. Optional to add Curio App or Curio Kiosk and more features.
NEW FEATURE Take an picture of the staff when they come and go from work
Curio Cam setting offer that manager can let the app take an picture of the user when the staff comes and goes from work. With this feature active, the old finger scanners are totally not nessasary to prove staff attendance.