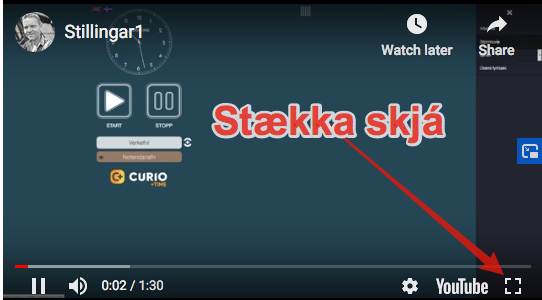 Click the "Box" to preview in fullscreen.

Instructions
1. Use Firefox, Chrome or Safari browsers
( Don't use Internet Explorer because it doesn't work with Curio Time )

2. Go on this site for version 6.3: www.work.curiotime.com
For the first time, you need to sign in the name of the company.

Company: Type in the company name
Password: Type in the password

then you click on the key and you will be signed in to your account.
It is recommended to set up the system after logging in.
Go to the control panel:

Then you have to log in again:
Username: Company's ID number
Password: The password that was sent to you
Select a language by clicking on a flag on the menu:
We recommend bookmarking the page after a successful login.
Settings
The settings have the first financing mechanism set up, This rule is a primary rule that is set on employees if there isn't a separate rule set on that employee site.
This is where you insert your work schedule over the week if there is only one rule for all employees.
In the pause row: you can insert the time that needs to be subtracted over the day.
for example, If employees get an extra break that they shouldn't be paid for, or if it should be automatically be taken out of their lunch break.
Click the clock and determine how much time an employee needs to work until the pause gets subtracted from their time over the day.
This is where you insert your own logo
We recommend using a transparent .png or .jpg images
You can also put in your own wallpaper your employees see when they clock in.
If you run into problems setting up a logo or wallpaper - then you can click reset for the original Curio Time logo and wallpaper.
Control the wage period
This is how you control your staff's wage period.
When you're done clicking SAVE - then the wage period for employees will be according to the date you inserted in Curio Time.
It is enough to only click the first calendar - then the calender changes automatically.
you can have a different wage period set to multiple employees.
look at Summary (collect)
Clocking in and out with a browser
Clocking in and out with a browser
You can clock in and out with a browser
This area is called "the main page"
We recommend bookmarking this site on your browser
You can choose projects and clock in on them
You can message the salary representative
You can see your own personal projects
Insert password and press the ( + ) to look up your personal projects